The dog days of summer can be stifling, and the heatwave makes it even more unbearable. However, nothing can send shivers down your spine faster than your air conditioning unit breaking down amidst a heatwave. It's the stuff of nightmares, leaving you sweating and longing for relief from the relentless heat. Here's what to do when you find yourself in this sweaty situation.
What To Do When Your Air Conditioning Breaks Down During A Heatwave
1. Don't Panic
The first thing you should remember is to keep calm. It's natural to feel frustrated when your AC breaks down during a heatwave, but panicking won't help the situation. Understand that there are immediate steps you can take to mitigate the heat and that professional help is just a phone call away.
2. Call A Professional
Your next move should be to call a professional HVAC technician. With the soaring demand for AC repairs during a heatwave, you'll want to get in line for service as soon as possible. While waiting for them, try to describe the problem in detail. This might help them understand the problem better and possibly guide you through some initial troubleshooting steps.
3. Use Alternative Cooling Methods
While you wait for professional help, deploy alternative cooling methods. First, keep the blinds and curtains closed to block out the sun. According to the U.S. Department of Energy, about 76% of sunlight that falls on standard double-pane windows enters to become heat. Using reflective shades or blackout curtains can reduce this heat gain.
If possible, utilize fans. Ceiling fans, box fans, and oscillating fans can all help create a breeze that evaporates sweat, cooling your body. If the outdoor temperature drops at night, consider placing a box fan in a window to pull in cool air.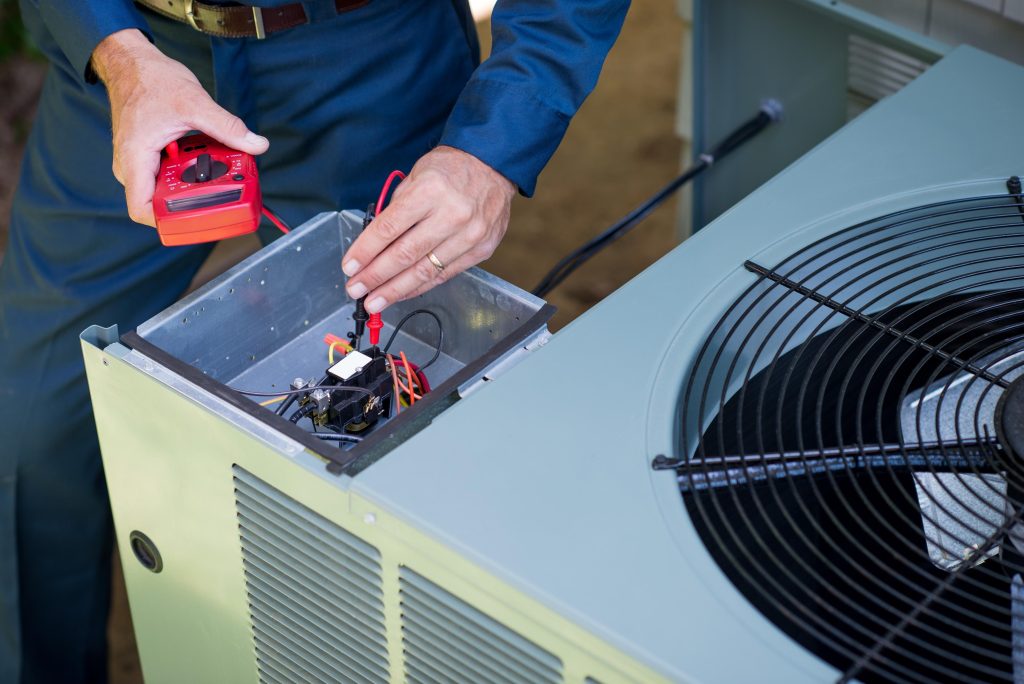 4. Stay Hydrated
Dehydration during a heatwave is a real concern. With no AC, you'll likely sweat more, so drink plenty of water to replace lost fluids. Avoid alcohol, caffeinated beverages, and excessive sugar as they can exacerbate dehydration.
5. Create a Cool Room
Isolate one room where everyone can congregate to stay cool. This should ideally be on the lower floor of your home as heat rises. Seal off this room as much as possible from the rest of the house to keep it cool. You can use a portable air conditioner or a fan in this room for optimal results.
6. Limit Use of Heat-Generating Appliances
Using ovens, stoves, and even some lighting can increase the indoor temperature. Opt for cold meals or use outdoor grills to keep the heat outside. Switch off unnecessary lights and unplug any unused appliances.
7. Cool Your Body
Take cool showers or use cold compresses on your neck, wrists, and ankles where your blood vessels are close to the surface. This can help you feel cooler. Wearing loose, light-colored clothing can also make a significant difference.
8. Seek Alternate Shelter
If the heat becomes unbearable and your AC can't be quickly repaired, consider seeking shelter elsewhere. Local community centers often serve as cooling centers during heatwaves. Alternatively, consider staying with a friend or relative whose AC is working, or even booking a hotel room.
Finally, remember to check on your neighbors, particularly the elderly and those with health issues. Heatwaves can be hazardous, and it's vital to ensure everyone is staying safe and cool.
When your air conditioning breaks down during a heatwave, it can feel like you're caught in a melting pot. But with the right approach, you can stay cool and comfortable until your AC unit is up and running again. And once it's back, consider scheduling regular maintenance to avoid the same predicament in the future. Regular checks and timely repair of minor issues can save you from major breakdowns, especially during heatwaves.
Need Emergency Air Conditioning Repair in NJ?
Are you looking for a professional and reputable HVAC company for emergency air conditioning repaire services? East Coat Mechanical Contractors Inc. is a family run HVAC company based in Monmouth County that has been in the industry for more than 30 years. We pride ourselves in providing "Quality and Value" residential and commercial heating and cooling services throughout Central New Jersey. We provide installation, repair, and maintenance solutions for all types of comfort systems. Service towns in the Central NJ  area include: Belmar, Highlands, Farmingdale, Spring Lake, Brielle, Little Silver, Aberdeen, Shrewsbury, Wall, Freehold, Holmdel, Allentown, Deal, Colts Neck, Fair Haven, Matawan, Hazlet, Middletown, Manalapan and many more! For more information, you can contact us at (732)751-8877 or check out our website.
Monmouth County HVAC Specialists
Other Posts: